who is who
back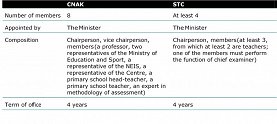 National Examinations Centre (Centre)
In the area of the NAK, the Centre performs technical, research and organisational activities amongst others: it prepares the draft version of the Guidelines for the Administration of the NAK, organises and technically administers the NAK, records and keeps archives of tasks, offers the necessary professional and technical support to the CNAK as well as subject testing committees, provides technical support in the NAK assessments, prepares analyses of pupils' achievement, prepares and maintains the information system, in cooperation with subject testing committees it prepares topical reports for the CNAK and in cooperation with the NEIS the Annual Report on the Administration and the Analysis of Achievement in the NAK etc.
Committee for the National Assessment of Knowledge (CNAK)
The CNAK is in charge of reliability, efficiency and transparency of the National Assessment of Knowledge (NAK) programme. It prepares guidelines for the NAK, coordinates the work of subject testing committees, adopts Guidelines for the Administration of the NAK and other acts, analyses achievements of the NAK and adopts the Annual Report as well as giving suggestions and initiatives from the area of the NAK etc.
Subject Testing Committees (STC)
STCs are appointed for individual subjects taken in the NAK. They prepare material for the administration and assessment of the NAK as well as items and topical reports, offer technical support to the Centre in the analyzing of achievement in the NAK and prepare materials in accordance with the decisions and guidelines of the CNAK etc.
National Education Institute (NEIS)
The NEIS performs technical, research, development and other activities in the NAK area: it organises the training of teachers who will mark tests, organises the marking of NAK tests at the end of Period 3 in regional units of the NEIS, organises appeals and, based on the analyses of achievement of the NAK, proposes to the CNAK and the Minister improvements for school programmes and the training of teachers and carries out tasks in the areas of guidance and research as well as preparing technical solutions for changes of, and amendments to, curricula etc.
Primary School
The preparation and administration of the NAK in primary schools are the responsibilities of head-teachers; they appoint a deputy for the administration of the NAK from among a school's professional staff. The marking of NAK tests at the end of Period 2 is, as a rule, done by those teachers from the school who are not the pupils' teachers. Head-teachers in primary schools appoint and nominate to NEIS also those teachers who will do the marking of tests at the end of Period 3. Each year after the NAK is completed, head-teachers prepare a report on the administration and the analysis of their pupils' achievement.
back